Equestrian Competitions
RDAQ Member Centres facilitate and support riders to attend a variety of equestrian competitions.
Although RDA centres essentially provide grass roots programs, it is exactly these programs that lay the groundwork for future competitions. All riders, at all levels of ability, are encouraged to participate in both Mounted Games and Dressage events. They are a great way to have fun while building confidence and self-esteem.
For talented riders RDAQ is able to provide accredited RDAA coaches and external para-Olympian coaches t0 give the additional information and training they need to build their riding skills.
Many RDAQ Centres are proactive in getting their riders involved in local competitions at Pony Club, Local Shows,  and Equestrian Groups and Breed Associations. Many riders enjoy the opportunity to show their riding skills in mainstream events.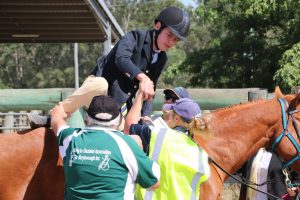 RDAQ registered riders are eligible for competition at State and National Championships. Each year RDAQ hosts the RDAQ State Championships. Riders, horses, coaches, volunteers and supporters from all around Queensland travel to take part in Dressage and Mounted Games events. To assist, horses are sourced from local Pony Clubs as well as from local RDAQ centres, coaches and volunteers.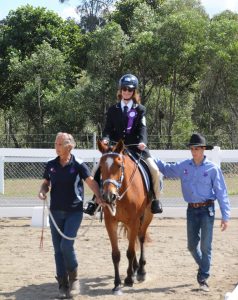 For those riders wishing to take competition more seriously there are options to be officially classified to compete in  Para-Equestrian competitions. This opens up further opportunities to take part in Official National and International Competitions. Many RDAQ riders also have taken the opportunity to be involved with the QLD Special Olympics Squad who has travelled to ride in both interstate and overseas events.