Donate to RDAQ
The purpose of Riding for Disabled Association of Queensland (RDAQ) is to assist people with disabilities to access the benefits that can be accrued from contact with horses, participation in horse riding and involvement in physical activity, sports, recreation and social interaction programs.
RDAQ is the State Administrative and Coaching Regulatory body for regional RDA centres throughout Queensland. Its role is to support all RDA centres through the ongoing education of general and specialised coaching as well as upskilling volunteers. RDAQ assists with and directs establishment of new centres.
The aim of RDA is to enable more people with disabilities to have the unique experience of horse riding and for some, especially those confined to a wheelchair, the opportunity to experience carriage driving.
Help us to make their dream a reality.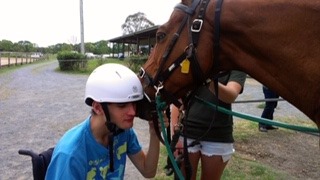 How will the Funds be used?
To purchase equipment for centres, train coaches and volunteers and support the opening of new centres throughout Qld.
Are donations tax deductible?
Yes, donations over $2 are tax deductible.
Will I receive a receipt for my donation?
Yes, immediately sent to you by email when approved.
How do I make a donations?
RDAQ accept donations through the following methods:
Give Now: RDAQ Donation page on the Give Now website: www.givenow.com.au/providearide
PayPal: Login into your own account to make a donation to Riding for the Disabled Association of Queensland Inc

Direct Deposit:
Account Name: Riding For Disabled Assoc of Qld Inc
Bank: Suncorp    BSB: 484 799    Account: 605576580
Reference: Donation from <<Your Name>>
If you do make a donation via Direct Deposit please contact us to advise of the donation and to allow us to say Thank you!
Cheques: made payable to Riding For Disabled Assoc of Qld Inc
Posted to: PO Box 529 Burpengary Queensland 4505
Do we accept other types of donations?
Yes we do! We accept donations of items, in good repair, that will assist our RDA centres, coaches, volunteers, horses and our riders. For example:
Saddlery & Saddle Pads
Bridles
Bits & Accessories
Head Collars & Leads
Horse Rugs
Grooming Equipment & Tack Care
Horse Boots & Bandages
Horse Feed
Training Equipment
Stable Equipment
New Riding Clothing
Arena Equipment
If you would like to donate an item(s) please contact RDAQ Head Office or your nearest RDAQ Centre to arrange.
Your legacy can transform someone's life
Most people would like to leave the world a little better off, knowing they have made a difference to a cause they really care about.
By leaving a gift to Riding for Disabled Queensland in your Will you can help to make a change. Your legacy will help provide life-changing support and services to our riders and help create a better future for people living with disabilities
Some choose to help by volunteering time, some donate money and others remember Riding for Disabled Queensland in their Will.
Leaving a gift in your Will is an easy and meaningful way to show your compassion and support. A gift does not have to be a large sum of money, as the true gift is the legacy you leave behind to help more Queenslanders with disabilities.
How to leave a gift
When deciding what to include in your Will, looking after your loved ones is your first priority. If you are considering leaving a gift to Riding for Disabled QLD It may be a good idea to talk over your decision with people close to you to ensure they support and understand your reasons for choosing to support RDAQ in such a special way.
A 'bequest' is a gift of personal property by Will and the term is now associated with all kinds of gifts in Wills. These can come in many different forms such as:
The residue of your estate. The remainder of your estate after specific gifts have been disbursed.
A percentage. You could choose to leave a percentage of either the residue of your estate, or a percentage of your entire estate.
A percentage. You could choose to leave a percentage of either the residue of your estate, or a percentage of your entire estate.
An asset. This could be land, shares, art, or other personal property.
A conditional bequest. In the unlikely event that your beneficiaries don't survive you, you may wish to leave your estate to Riding for Disabled Association QLD Inc.
Thank you once again for your thoughtfulness and consideration
Please download our RDAQ Wills & Bequest Form
PLEASE DONATE TODAY
RDAQ is committed to providing life-changing experiences for disabled children and adults across Queensland. Your contributions to RDAQ will go a long way. You will help to care for the horses and buy equipment.
Make a secure donation at Give Now.