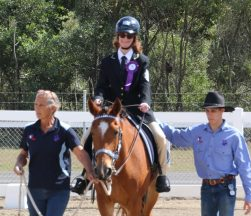 RDAQ State Championships
The RDAQ Board is excited to invite all eligible riders and non-riders to participate in the 2023 RDAQ State Championships to be held on Saturday 5th & Sunday 6th August 2023 at the Maryborough Showgrounds & Equestrian Park.
It is hoped that as many riders, volunteers and coaches from RDAQ affiliated centres will travel to beautiful Maryborough to learn new skills at the 2023 Central Qld RDAQ Workshop on the Thursday 3rd & Friday 4th August 2023 and then stay on to have fun while competing in the championship events.
As well as Working Trails and Para-Dressage events, this year the program includes two new competitions – Handy Pony Obstacle course event and a Team Fancy Dress event. The aim is to enjoy and celebrate all that spending time with a horse can give to not only our RDA athletes but also RDA volunteers and coaches. So, discuss participating as a competitor or as a volunteer with the Senior Coach at your RDA centre and come join the fun!
Please note:
Financial assistance to attend either event may be available through RDAQ for those are based over 1 hour from Maryborough.
Competitors may be able to lease a suitable RDA horse or pony to enabe them to participate without floating a mount from their RDA centre.
Camping sites are available at the showgrounds.
Registration to all events is FREE for all clients of an RDAQ Affiliated Centre.
A completed Entry Form must be submitted to the RDAQ State Administrative Officer by 4pm Friday 21st July 2023. Late entries cannot be accepted.
Participation in the 2023 RDAQ State Championship events is only open to financial registered riders and non-riders from a RDAQ Affiliated Centre.
All horses and ponies entering the showgrounds will require a completed Health Declaration Form.
For all the details about the championship events and conditions of participation please read:
2023 RDAQ State Championships Participation T&Cs
Dressage Events
Working Trail Events
RDAQ State Championships 2023 _ Led Working Trails
RDAQ State Championships 2023 Working Trails Course
Handy Pony Obstacle Course 
RDAQ State Championships 2023 Handy Pony Course
Team Fancy Dress Event