Volunteer for our centre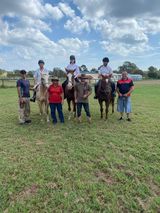 RDA Hervey Bay is always on the lookout for new volunteers to join our team. Our committed volunteers have the opportunity to get involved with our daily activities running our riding program, horse management, and ground maintenance. You do not necessary need experience with horses to assist at our RDA centre. Training and support will be provided to you in order to build your confidence and skills in supporting the riders and in working with our horses.
These are a few of our daily activities where we may need your assistance as a volunteer:
Horse management : feeding, grooming, tacking, exercising
Paddock maintenance, cleaning and maintenance
Riding programs : horse leaders, horse side walkers, becoming a coach
Ground maintenance: Fencing, weed control, slashing paddocks, tree maintenance, painting
General administration: Fundraising, procurement, networking
Volunteer co-ordination: Registration, training, induction,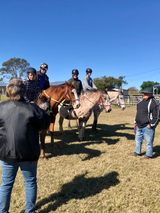 Many RDA volunteers go on to careers in the health, disability, therapy and education and equestrian sectors. Some choose to undertake additional study to become a nationally accredited RDA Coach.
Please contact us today if you would like to join us 0457 708 852 .