Donate to our centre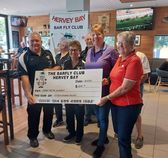 RDA Hervey Bay is a non for profit organization and gratefully accepts donations. Without the support of our local communities and sponsorships, this extremely valuable cause could not deliver the quality service to the disabled community and their families throughout Hervey Bay.
How will donated funds be used? 
To purchase equipment for our centre, train coaches and volunteers, and increase access to new riders and volunteers.
Are donations tax deductible?
Yes. Donations over $2 are tax deductible.
Will I receive a receipt for my donation?
Yes, A receipt will be immediately sent to you by email when the donation is approved.
How do I make a donation?
If you wish to donate to RDA Hervey Bay please contact us today 0457 708 852 .