Meet Our Horses
We are nothing without our wonderful horses. We are lucky enough to own all 4 of our gorgeous herd. They all have their own special personalities and love all of the attention they receive. We are also extremely lucky to be sponsored by Kohnke's Own and Prydes Easifeeds as you can see by the fantastic condition of our horses. We also use and recommend farrier Tony Handley.
TIA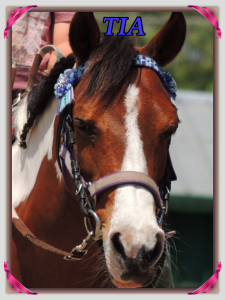 Pretty Princess Tia stands at a petite 13.1 HH. Tia is a Tri Colour Pinto Pony mare. Tia arrived at Crowson as a donation in February of 2012. We were a little hesitant at first as we have always mainly used Geldings, but she won us over with her personality and her absolute willingness with the riders. She will even greet the riders with a lick just like a dog would. She has a real sense of knowing when a rider is hesitant and will be extra gentle with them.
Tia will be 21 this year (2018) and still has a lot of joy to give.
Before Tia came to us she had spent many weekends at pony club events and even participated in Anzac Day marches. We believe she did some work with the endeavour foundation as well.
Tia took one of our riders to the RDAQ State Championship and they were placed with a 1st and a 2nd in their dressage tests.
It's hard to know a horse's full history as they usually live long lives and have numerous owners. Whatever the history, we love Tia and look forward to her future helping people with disabilities, DEVELOP ABILITIES.
---
---
SONNY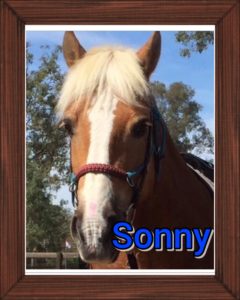 Sonny joined our team late 2016 and settled right in on day 1. Sonny is a Haflinger, 13.2hh and is in his mid teens.
Sonny is a firm favourite with most riders. Nothing fazes Sonny. He enjoys all of the games (particularly the ones that lets him stand still.) Sonny came to us from Andrea and Cathy, Even though Sonny was very well loved they realised that he had so much more to give and they knew he would be perfect for our centre.
Sonny has a very wide girth and is a great horse to learn your balance on. His trot is lovely and smooth. Sonny loves his food and he often needs to spend time in our Jenny Craig paddock to limit his weight gain.
In 2018 Sonny competed in the RDAQ State Titles at QSEC in Burpengary. On the Sunday morning Sonny competed with the sounds of Trains and even shooting noises from the local Pistol club. Sonny was not worried at all and enjoyed competing.
---
CINNAMON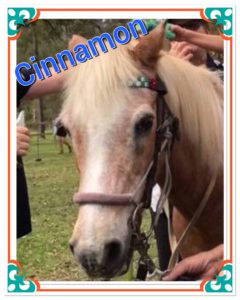 Cinnamon has been with us since late 2017. He is a Welsh a x Haflinger. We are not sure of his age but the vet said he is over 25. He is our oldest horse but you wouldn't know it as he enjoys all of our activities and enjoys a fast trot when he is used as a led pony only.
Cinnamon was given to us by Michelle, who's daughter had competed in Pony Club with him.
He is a very showy little pony and will often photo bomb me when I take photos of our riders. He loves the camera and stands himself up nice and tall with ears forward when he has the time before I take the photo.
He is very patient and gentle with all of our smaller riders. He has a lovely smooth trot and he thrives on the giggles the riders give him.
---
ANDY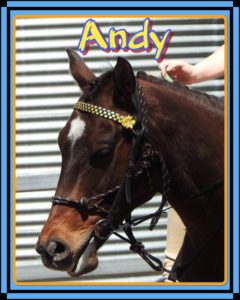 Andy joined our team in June 2019. He is a Quarter/Stock Horse. His registered name is "Society Oaks Ammo". He is 15.2hh and has a lovely dark bay coat.
He is a real people horse, he always wants to know what anyone is doing and he feels he should always be in the middle of it. Andy has quickly become a favourite and is always ready for a pat. Andy enjoyed dressing up for our Dressage day and he behaved beautifully.
He enjoys being in our lessons and doesn't get fazed when we play any games. When we play water relay Andy has been know to stop and drink the water from the bucket before the rider gets a chance to collect it.
Andy is a pleasure to work with and he is learning all about our "Hands free leading".
_______________________________________________________________________________
LADY –
Now Retired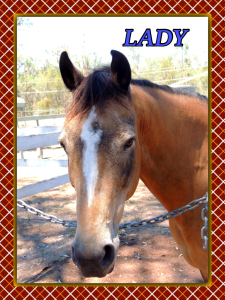 Due to health issues we had to retire our lovely Lady. She is loving life with one of our volunteers and with her paddock mate, they could be twins.
Our beautiful grand "LADY" was donated to our centre by a wonderful family. The children had grown up and were not riding anymore. They knew she was too good to sit in a paddock as she still had so much more to give. They were so right! Lady is a Buckskin Australian Stock Horse mare standing at 14.2HH and around 21 years of age. She arrived at Crowson Park in September 2014 and blended straight in. She is very much the Lady of the property and is the boss with the other horses.
Lady was a rescue horse who has carried her riders through years of pony club and also reared some foals, one of which the owner still has.
Lady is a joy to work with and shows no signs of her advancing years. We hope to have her competing at the State Championships with our riders in the years to come.
Lady especially loves the ball games as it gives her a chance to have a quick nap while standing still.
With her lovely smooth trot, she has quickly become a favourite with the riders.
---
BUSHMAN –
Now Retired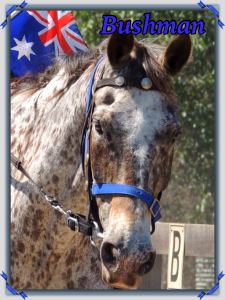 Bushie is now enjoying his retirement years being spoilt and very much loved by Maddie and Rowan. We often update on all his adventures.
Bushman or as we call him 'Bushy' is our alpha male and has the best story. Bushy came to us in July 2012, he arrived in the middle of the night on a truck with 4 baby camels and a young stock horse stallion after a very long trip from Longreach, outback Queensland.
Standing at 16.1 HH, Bushy is a big gentle spotted Appaloosa gelding. The spots even appear in the coloured part of his eyes. When he arrived he had come straight from the 'Common' in Longreach, dirty from his trip and tick dips and in paddock condition.
At the stately age of 25, Bushy continues to give to us humans and despite his size has been wonderful and gentle for our riders.
Bushy spent the early years of his life as a station horse, mustering was his life for around 9years. He has also done stewarding work at outback racetracks and rodeo pick up work. In 2009 when flood waters hit Longreach, his owner Cameron, saddled him up and attached an inflatable boat and rode him through waters nearing his belly to rescue people who were stranded.
Bushy deserves his cushy life. At our centre Bushy is trustworthy and has enabled many of our riders to ride independently. He is happy to plod along and sometimes gives us the impression that he is doing it all in his sleep.
But put a confident rider on him and he stands tall and is ready for a good canter. We can't say enough about this gentleman of the horse world.
_______________________________________________________________________________
BARNABY
Now Retired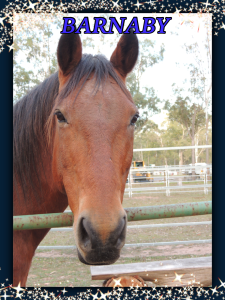 Barnaby is a new comer to Crowson Park, arriving in July 2014. He has certainly found his calling. Barnaby is a 15.1HH Quarter Horse X Stock Horse and is Bay in colour (rich brown with black tail and mane). At around 25 years of age he has a beautiful calm temperament. Like most horses Barnaby is particularly fond of his food and will never knock back a carrot or two.
Before Barnaby came to us he did endurance riding and spent time at a riding school teaching adults and children to ride. In the last couple of years he has been a companion horse and was ridden only occasionally. With a temperament like his, RDA is the perfect home.
We think it would be a very close vote if you asked our riders who their favourite horse is, but I'm sure Barnaby would be in the running for top spot. Barnaby has empowered many of our riders to ride independently which is a great accomplishment. For the riders who don't have full use of their legs being independent is like having legs, directing the horse where they want to go.
Needless to say, Barnaby is a permanent resident at Crowson Park.