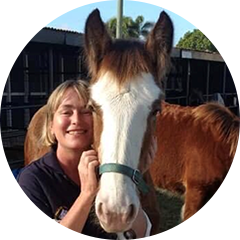 Toni McIntosh
President
Born in western Queensland of a horse racing family, Toni has had a lifelong love for horses. After a childhood spent in the Northern Territory, she moved back to Queensland to complete university studies in Chemistry before establishing her own business in 2006, which operates to this day.
Toni spent some years volunteering in a part time administration role and helping out on game day operations with the Townsville Fire, the local women's basketball team before being introduced to RDA in 2016. Toni joined the Townsville committee as president in 2016 and also became president of RDAQ in 2019. She enjoys the challenges that arise through these positions and working with all of the volunteers in their many roles to maintain and improve what is RDA.
She is passionate about the benefits that RDA bring to each rider through the interaction with the horse, coaches and volunteers and is looking forward to spending many more years volunteering within this organisation.