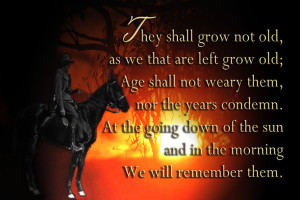 Well, that's it folks. The winter coats are coming out and your morning coffee bill is rising steadily which can only lead to one conclusion, autumn has arrived.
Anzac Day is one of Australia's most important national commemorative occasions. It marks the anniversary of the first major military action fought by Australian and New Zealand forces during the First World War. We wish you all the very best for ANZAC Day.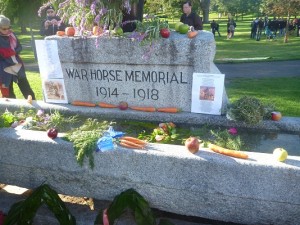 OFFICE OF FAIR TRADING – Annual Returns
Incorporated Sport and Recreation clubs are reminded to ensure they follow the Office of Fair Trading's guidelines for operating in Queensland. An important requirement is that within one month of the AGM, you must complete and lodge the Associations Incorporation Form 12 – Annual Return of Association. The annual return must include a signed and dated copy of the club's financial statement (including a profit and loss statement and a balance sheet) which has been presented at the AGM, signed and dated. Additionally, you will need to include a copy of the signed audit report or verification statement.
Council encourages all clubs to check with the Office of Fair Trading to ensure they are registered and up-to-date as this can effect funding opportunities. For more information visit the Queensland Office of Fair Trading website at www.fairtrading.qld.gov.au.

EXPRESSION OF INTEREST – Club Development Plan
Would your club benefit from a strategic document that provides direction to the organisation?  Council is seeking expressions of interest from organisations to undertake a Club Development Plan  this June.  The Club Development Plan will involve key personnel attending two planning workshops to ensure that objectives and strategies contained within the plan are representative of the organisation.
The first workshop will provide an overview of the planning process, review the organisation's financial status, governance and constitution, and introduce the Development Planning template.  The second workshop will allow organisations to review their planning progress, identify key priorities contained within the plan and group discussion to finalise the plan.
To apply to undertake a Club Development Plan, please visit Council's website and download an Expression of Interest application.  Please note the form must be completed and returned to Council by 5pm, Friday 24 April 2015.
Should you require further information, please contact the Sport and Recreation unit on 3283 0389 or email .
President Report April 2015
We have now completed visits with far North Qld, Mackay, Rockhampton, Blackwater and Gemfields, as well as speaking with a group of people interested in offering RDA services in Emerald as part of the Central Highlands. The visits were very positive with resources and information being developed and shared. The Board is eager to meet and engage with Centre committees and volunteers.
I must thank Bundaberg Level 1 Coach, Sunrise Emmanuel for taking time out of her life to accompany and assist me on this trip.
The next visits will be in the southern areas, and we will we be contacting Centres to arrange times and dates mutually suitable to all.
Chris Nott has been of invaluable assistance to the Board and our Coaches achieving incredible results through her 'Skype' training and practical workshops we now have 5 newly accredited coaches; Julie McLaughlin (Currumbin Valley), Deb Bamblett (Blackwater) and Paula Riley (Gemfields) are now Level 1, Jennifer Fehring (Mackay) and Michelle Morrice (Rockhampton) have completed their OTC.
Our congratulations to them and our thanks to the Centres and other coaches who assisted with this process.
Chris has also been of invaluable assistance with preparing the program for our State Event, which will be circulated within the next week.
We have also been very fortunate to have Jane Sayer, the Carriage Driving Team and the Cartmill Centre agree to assist with a carriage driving program. Details have already been circulated to centres.
Finally a reminder; we are seeking more members for the Board, people who care and realise the importance of our Association. People who don't have time – rather they are willing to find the time to ensure the future for RDA Queensland.
Our best to you all.

Megan Wray
RDAQ President
 RDAQ Seeking Board Members
We are seeking expressions of interest from people who are able to bring their time, skills and expertise to become part of a team dedicated to taking RDAQ into the future. If you know of or are such a person please contact myself, Kerry or another Board member to discuss further.
Location: Burpengary, Brisbane
Time required: 1-3 hours per month
Duration of project: Ongoing
Contact name: Megan Wray
Contact telephone: 07 3888 5277 or 0402 470 616
Contact Email:
 RDAQ News
RDA Carriage Driving Training week with Diana Lawrence
Linda Turner and I, visited Diana Lawrence, just outside Hamilton, Victoria, for a training week in mid March. For those of you who don't know, Diana and her daughters are ambassadors for the sport of carriage driving, having represented Australia many times in the competitive driving world. It was a great opportunity to learn from her and also see the input she is having to RDA in Victoria and beyond.
Diana and her husband John, were fantastic hosts, and took us to Mount Gambier in South Australia to see firsthand the process of starting up a carriage-driving program. For me, as a trainee Assessor, this is an important part of the work that lies ahead of me, since many of our centres in Queensland are at the point of thinking about a carriage driving program but need to know how to make this a reality. Conversations and decisions around safe areas to drive, appropriate harness, carriages and most importantly horses took most of the morning and trainee level O whips were given advice by Diana on long reining techniques to develop their skills.
The second centre we visited was Terang, an hour from Hamilton and one where a vibrant carriage-driving program is running. Here horses are floated in and 2 level 1 whips and a level O take drivers for 15 – 20 minutes lessons in a large outdoor arena. The 2 Clydesdale cross horses work simultaneously and the volunteer team ensured that the sessions ran to time in a really efficient way. The drivers ranged from those enjoying the stimulation afforded by a horse and carriage, including the sensation of speed (at trot), to those able to learn rein handling and developing great skills in steering and control. We were also able to inspect a new wheelchair adapted carriage built by a Chinese company to specifications given by Diana and her daughter Elizabeth. Again, as a trainee Assessor, I was able to appreciate design features, which are important for safety and comfort, and was impressed by the workmanship of the manufacturers.
During the 5 days, Linda was able to gain valuable experience, managing to get all of her workbook signed off by Diana, and just needs to complete the generic workbook and do a few more coaching hours to achieve her level O. We both got to drive Diana's granddaughter's pony, Shakespeare, who was a delight, being both well trained and responsive. I also got some more long reining coaching from Diana and had the privilege of working with one of their up and coming stars, a beautiful Welsh section C filly.
Linda and I are grateful to have had this opportunity to visit Diana, and learn from someone who is truly a legend in the carriage driving world and a huge asset to RDA. We hope to have Diana return to Queensland later this year, which is an opportunity for those thinking about commencing driving, or those having started their journey, to progress.
Regards,
Hilary Stubbs level 1 CD Whip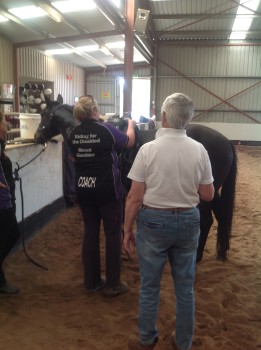 Diana advising on harness fit at Mount Gambier RDA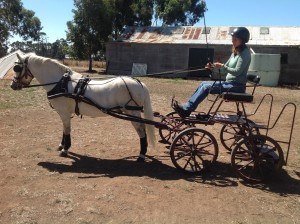 Hilary driving Shakespeare
The new vehicle at Terang RDA, Linda driving
Carriage Driving Program
RDAQ has called on the expertise of the Cartmill Centre Burpengary RDA -Carriage Driving team and the Centre's Volunteers in an endeavour to expand Carriage Driving to other Centres in Queensland.
Jane Sayer, Hilary Stubbs, Lynda Turner and Lyn Clark have generously agreed to donate their time and resources to provide an opportunity for other Centres to find out what is really required to run a successful Carriage Driving program. Centres will have the opportunity to send Coaches and Volunteers to a monthly training day at the Cartmill Centre, over a 6 month period, where a range of topics will be taught and discussed. For those who make the commitment and attend the 6 days the reward will be an invitation to attend a 2 day workshop at Cartmill, in November, presented by the incomparable Diana Lawrence, Australia's leading Whip and Assessor.
Expression of Interest have been called for from all Centres and Coaches, to attend the Training Days, and if you require any information,
please contact Kerry on 0421 665 688.
We encourage all members to get behind this initiative and support the expansion of Carriage Driving throughout the Disabled Community of Queensland. Remember, Horse Riding is not suitable for all Disabled people.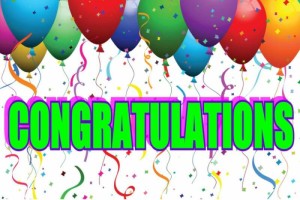 Congratulations to Maryborough RDA and Mackay RDA who have received grants from the Gambling Community Benefit Fund. Well done! We look forward to seeing your centres grow.
RDA Centre News
RDA Gemfields
Gemfields RDA Inc. and Blackwater RDA Inc. are pleased to advise that Paula Riley (Gemfields) and Debbie Bamblett (Blackwater) have successfully obtained their Level 1 Coaches Accreditation on the 21-22nd March 2015 which was held at the Parkhurst RDA Centre in Rockhampton. This would not have been possible without the wonderful support from Chris Nott Assessor, Cherie and staff at the Parkhurst Centre and the funding resources provided by RDAQ allowing all OTC and Level 1 Coaches to travel to the various workshops in Queensland or bring the instructors and assessors to our regions. Providing extra group lessons through Skype communication bringing us all together.
Paula and Debbie would like to congratulate Jenny Fehrings from Mackay and Michelle from Rockhampton who obtained their Level O Accreditation.
A very rigorous agenda was taken on board by Megan Wray President RDAQ and Sunrise Emmanuel Level 1 Coach who have travelled all over Queensland visiting RDA Centres giving help and instruction to get us all operational. A very big thank you to Megan and Sunrise for making this possible. 
Rockhampton RDA
As previously advised Rockhampton RDA has suffered extensive damage as a result of Cyclone Marcia, and has not resumed riding while the clean up continues.
Their arena cover as well as the paddock and yard fencing was severely damaged or destroyed during the cyclone.
Rocky's wonderful committee and hardworking volunteers are working feverishly to get their grounds back in working order. They have received some fantastic community support as well during the clean up, and are awaiting decisions from the Government on disaster relief.
The National Australia Bank has generously donated $10,000 to help with the restoration work and we would like to pass on our thanks to all Management and Staff at NAB.
Corporate generosity is often overlooked by the community but in plays a major part in the rebuilding process after natural disasters like Marcia.
Thanks again to all involved at the National Australia Bank.
Trish Hollis's Blog
Trish Hollis's person of the month.
This month I want to shine the spotlight on the bright and friendly voice at the other end of the phone when you ring the RDAQ office.
Jenna joined the team at RDAQ in October 2014 and works 9am – 2pm Monday to Friday. Jenna came to us from the corporate world of franchise recruiting for Domino's. I asked Jenna, Was this a big change? Jenna told me that it was a huge change of pace and she is enjoying the broader range of tasks involved at RDAQ. She also told me that the people are much friendlier than in the corporate world. With the broader range of tasks she has also come across the challenge of learning new things in the charity based sector.
Jenna has taken on our website with the online shop and has spent many hours putting new processes and data base information into a workable platform, as well as the newsletter which she would love to be able to include more items from our centres…..hint hint. In general people have been patient, as Jenna settles in and learns what the rest of us know. I talked to Jenna about what she knew about RDA before she was awarded the Admin job. Her knowledge was limited but with the help of members and the Board, Jenna is gaining the knowledge she needs to answer any questions presented to her.
The next thing we need to do is get Jenna out to see a centre in operation and I hope to get her out and about soon, which she is quiet excited about doing. Jenna loves to hear the stories from our members and this gives her an insight into why we do what we do. Jenna also said that she has never worked with such a great team and is constantly amazed at the passion of our volunteers.
Jenna is an animal lover with two fur babies, (she says she is still practising at parenting ideas haha) we can now introduce her to the crazy world of horses. I have found Jenna to be a most obliging person and hope she is with us for many years to come. As we all know the world of RDA is sometimes difficult and quite a bit different from a lot of other types of clubs, when you add disabled people and animals into anything you are going to get challenges. I'm sure Jenna will tell you she knows more about insurance than she ever needed to know!! I think Jenna is handling the office beautifully and I for one thank her most sincerely.
So now you have a face and a story to go with that voice I hope you all overwhelm her with items for OUR newsletter.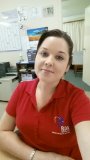 Jenna Rugers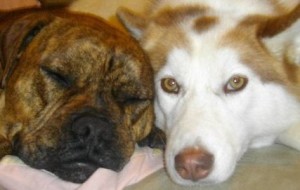 Jenna's Dogs – Sparta and Meka
---