RDA Queensland eNewsletter for January 2015
Welcome to the first RDA Queensland eNewsletter for 2015!

RDA is about having fun, participating with your friends, learning new skills and challenging yourself to become a great person. 2015 sets out to be a very exciting year for RDA with many events and programs available to you to participate in. RDA Queensland continues to grow with your support and friends who are introduced regularly to our website https://www.rdaq.org.au/ . As a continued member of RDA Queensland you will have access to the latest workshops, competitions, events, news and so much more.
May I remind everyone who has any involvement with RDA Queensland that we now require the associate member forms to be filled out. These forms can be retrieved from this link: 2015 Form Membership Associate Member . Please send it back to your local centre or by emailing it to . We are also happy to invite everyone to now become a financial member of RDA Queensland. Please ask us for more details.
No matter how much you compete or participate in our great sport, remember, that 'Everyone's a Champion'.
All the best for a very successful year of riding in 2015.
RDA Queensland
---

ANNUAL REQUIREMENT – Office of Fair Trading
Has your club recently held an AGM and changed Management Committee members?
Under the Incorporations Associations Act, clubs are required to advise the Office of Fair Trading within one month of a change occurring to the Management Committee, i.e. President, Treasurer and Secretary.  This can be done by completing the "Annual return of association".  Additionally, the committee changes also need to be sent through to the Sport and Recreation Unit at Council, so that our records remain accurate.  These changes can be sent to .
The Office of Fair Trading also have a guide to running an association, 'Smart business guide for incorporated associations', which is available to download from their website.  Additionally, there is information on the website on meeting procedures, getting a common seal, rules for associations and who can be on a committee and what they do.
For further information visit www.fairtrading.qld.gov.au.
Blue Cards – Please also make sure that all volunteers have up to date Blue Cards.
For more information please visit www.bluecard.qld.gov.au
---

Get Started Round 5 will now open on Wednesday January 28, 2015.
The program provides eligible children and young people aged 5 up to 18 who can least afford to join a sport or recreation club with a voucher valued at up to $150 for membership and/or registration fees. It should be noted that vouchers are issued on a first come, first serve basis; therefore there is no guarantee that a child or young/person will obtain a voucher.
Over 3500 clubs have registered for the program. Clubs can apply for Get Started registration at any time. Registration is valid for the entire program period so there is no need to register for each round.
Fact sheets for clubs, parents/guardians/carers and referral agents can be viewed at www.nprsr.qld.gov.au/funding/getinthegame/getstarted.html. The factsheets provide an overview of the eligibility criteria and application process.
More information on Get Started, including the registration process and promotional materials that can be used by clubs to advertise their involvement in the program, is available at www.nprsr.qld.gov.au/funding/getinthegame/getstarted.html.
Should you have any further enquiries please email .
Kind regards
The team @ Sport and Recreation Services
Department of National Parks, Sport, Recreation and Racing
---
RDAQ Seeking Board Members
We are seeking expressions of interest from people who are able to bring their time, skills and expertise to become part of a team dedicated to taking RDAQ into the future. If you know of or are such a person please contact myself, Kerry or another Board member to discuss further.
Location: Burpengary, Brisbane
Time required: 1-3 hours per month
Duration of project: Ongoing
Contact name: Megan Wray
Contact telephone: 07 3888 5277 or 0402 470 616
Contact Email: admin@rdaq.org.au
---
RDAQ President Report
Board Report January 2015
2015 has begun with earnest for RDAQ Board and Coaching Committee.
We have completed our 2015 Planning Calendar, which will commence for Rhiannon and myself with visits to all centres in the first quarter of 2015. The Calendar is available through RDAQ website.
We will be contacting centres within the next few weeks to organise these familiarisation visits, which will include meetings with Centre Committees for information gathering and planning as well as completing Band checks for centre accreditation. I look forward to getting to meet you all and to listening to your plans for your centres and points of view regarding RDAQ.
Our Coaching Committee has also started the year running with Chris Nott scheduling practical and theory training for our up coming coaches. Information is available through your local centre or the RDAQ website.
I will remind everyone that this year the Special Olympics will be held at the Sunshine Coast. This is a wonderful opportunity for our riders and RDAQ is committed assisting as many as possible to attend. Please contact Chris Nott for further information – Chris's email is or 0433182398.
Thanks to the drive and commitment of Kerry, our Treasurer, our finances are also looking positive. He has recently secured a $32,460 grant for our Carriage Driving Program and has several very positive ideas for our future financial security.
We have forwarded cheques for Centres fortunate enough to be recipients from PCAQ Personality Quest Entrants who raised nearly $24,000 for our association in 2014. This is a great fund raiser for RDAQ Centres and I commend the efforts of the young entrants for their efforts on our behalf. This year we will ensure centres are aware if they have an entrant fundraising on their behalf so they are able to work with and support their Quest Entrant in their endeavours.
Our membership base is growing well. We now have over 800 members, which is very encouraging.
RDAQ has secured the services of AON to cover our Insurance needs for 2015, the policy is very comprehensive and Certificates of Currency will be forwarded shortly as will rider registration forms for 2015.
A reminder also that Centre Body membership is due and payable by 31st January, this must be paid to ensure ongoing insurance cover for centres and members.
Sadly we accepted the resignation of Melody Jacobs from RDAQ Board. Mel made this decision because of work and study commitments. This leaves our Board with an even greater shortfall on enthusiastic and committed members who are willing to commit to the Association. We are seeking expressions of interest from people who are able to bring their time, skills and expertise to become part of a team dedicated to taking RDAQ into the future. If you know of or are such a person please contact myself, Kerry or another Board member to discuss further.
Looking forward to a great year
Megan Wray
President
---

2014 PCAQ Personality Quest Saturday 6th December
      Held at Bundaberg RSL
This year Musgrave Pony Club organized the dinner dance in conjunction with PCAQ.
The representatives on the judging panel were
Lynn Forgan                      Councillor Bundaberg Regional Council
Naomi Paulsen                   Musgrave Pony Club
Brian Shannon                    RDAQ Board
There were 5 junior entrants and 5 senior entrants. All entrants were of exceptional quality and it was very difficult to determine the first three places of each section.
The junior winner was Tori Mansfield from Cannon Valley Pony Club.
The senior winner was Justin Rosenberg from Hendra Pony Club.
The Fundraiser winner was Alycia Kuhnert from Mt. Mee Pony Club who raised $8136.00 plus a raffle on the night.
A cheque for $24,909.90 was presented to RDAQ President Megan Wray by Kev Walsh Vice President PCAQ.
Johnny Moran (OAM) our patron and his wife Margot attended the dinner. Johnny was asked to present thank you gifts to all the entrants on behalf of RDAQ. They travelled up from Brisbane despite the weather.
Other prizes presented to the entrants were donated by Horseland and Giddy Up Girl.
There were approximately 120 people who attended the dinner including Margie Davidson from PCAQ office and Kev Walsh Vice President PCAQ and his wife Lou.
Johnny and Margot Moran, Megan Wray President, Susan and Brian Shannon Board members attended on behalf of RDAQ.
I would like to thank Glynnis Klyden and Allison Coonan and the committee of the Musgrave Pony Club for all the work they put into the night.
Among some of the diners were Sunshine Emmanuel and Ciara Souldice from Bundaberg.
I would like to thank all the entrants (their family and clubs) the PCAQ and the members of Musgrave Pony club for the effort they put into fund raising and organizing the night in Bundaberg. This was the 36th year of the event.
It was a great pleasure to be there.
Susan Shannon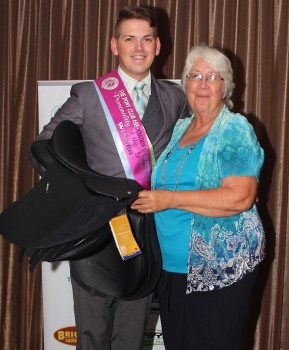 2014 Personality Winner – Justin Rosenberg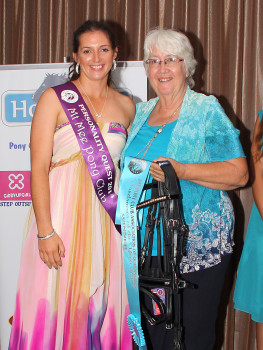 2014 Charity winner – Alycia Kuhnert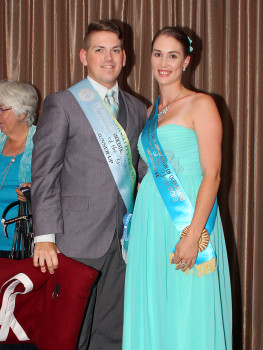 Justin Rosenburg Senior Winner and 2013 winner Louise Lynham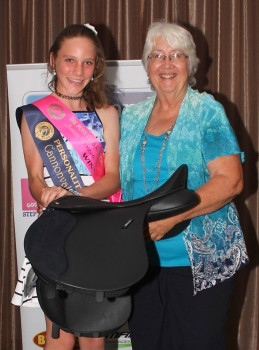 2014 Junior Winner – Tori Mansfield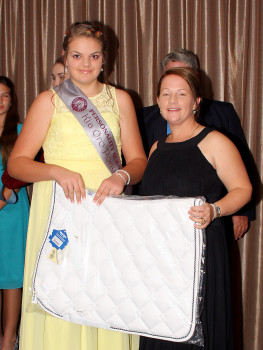 Jessica Friske Junior runner up and Judge Naomi Paulsen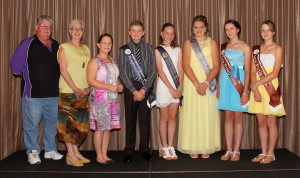 Group Junior Entrants:  Junior Entrants: L-R Brian Shannon, Lynn Forgan, Naomi Paulsen, Clayton Turner, Tori Mansfield, Jessica Friske, Laura and Sophia Fredrikson.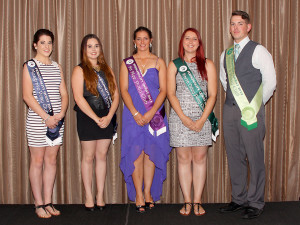 Group Senior Entrants Senior Entrants: L-R  Shania Kliedon, Brittany Meyer, Alycia Kuhnert, Eloise Page, Justin Rosenburg.
---

PCAQ winners of the Raffle.
1st Prize winner – Sabrina Wicholetts
2nd Prize Winner – Bev Bryer
Book Seller's Prize – Alycia Kuhnert from Mt Mee Pony Club.
---
RDA Centre News
The centres around QLD will be opening at different times of the year in 2015. Please view the below list of centres and opening time.
| | | | |
| --- | --- | --- | --- |
| Centre | Opening Date | Days of Operation | Times |
| Blackwater | | 3rd Sunday of each Month | |
| Bundaberg | Feb | | |
| The Cartmill Centre | End of January 2015 (please contact them on 3888 5611 or 0419 482 020 for exact dates) | Wednesday, Thursday and Saturday | 9:00 am to 14:00 pm |
| Crowson Park | Tuesday 10 March | Tuesday and Wednesday | |
| Currumbin Valley | | Friday and Saturday | |
| Gemfields |  March – date to be confirmed | Wednesday and Saturday | 10:00 am to 12:00 pm |
| Lockyer Valley | | 1 Saturday and 1 Tuesday each month | |
| Mackay | | Every second Tuesday and one Sunday per month | |
| Maryborough |  TBA | Tuesday | 8:00 am to 12:00 pm |
| North QLD | | Monday to Friday | |
| Pender Centre | | Tuesday | |
| Pine Rivers |  3rd March | Tuesday | |
| Rockhampton | | Wednesday and Sunday | 9:00 am to 12:00 pm / 8:00 am to 12:00 pm |
| Samford |  March 4 | Wednesday, Friday, Saturday and Sunday | 8:00 am to 13:00 pm |
| Toowoomba |  Wednesday  4th March | Wednesday and Saturday | |
| Townsville | | Thursday |   |
| Warwick |  Tuesday 22 April | Second and third school term on Wednesdays | |
Samford RDA
Working bee from 7am on Sat Feb 14
Volunteer training on Feb 18, 20 & 21
Sign-on days on Feb 25, 27 & 28
Lessons resume on March 4, 6 & 7
For more information please contact them on 0434978020 or rdasamford@gmail.com
Currumbin Valley RDA
The Valley RDA is very excited about starting 2015 with a big bang by running a number of outstanding workshops aimed at getting us all skilled up to ensure that all our riders have the best possible coaching and support.
1/ In February we will have hardly had time to get our herd all spruced up, after their long turnout in the bush, when Wendy Mac will be visiting on Feb 14th to give us some guidance specifically with our CP riders.
2/ Mary Longden is coming for the 20/21/22 March to inspire us to help every rider reach their greatest, individual, riding skill level, potential and ride like the wind. We will be getting a big supply of glue for the saddles for these sessions.
Mary is also going to do some actual riding coaching sessions with our trainee coaches so that is going to be entertaining for the observers and nerve racking for the riders.
The plan, to help with the costs of this very expensive workshop, is to give the opportunity for other individuals to pay for lessons at the end of each day's workshop.
Look her up on Google and be impressed.
3/ In April we are so fortunate to have Vicky Melville able to fit us into her tight international schedule, for the 24th, 25th and 26th. She wowed everyone at the National Conference and our coaches who attended can't wait. She is a physio who specialises in the medical and therapeutic aspects of RDA .
The Valley mob are, as always, going to give 2015 their best shot and I know because of their dedication and skills our team will have EVERYONE ( including the horses) enjoying every moment of their RDA experience.
Happy RDA to everyone
Beverley
For more information please contact them on 07 5536 1224 or bevhumphries@optus.com.au
Crowson Park RDA
Volunteer Training  day Tuesday 17th February and 1st ride on the 10th of March.
For more information please contact them on 07 3200 1055 or
North Queensland RDA
Congratulations Janelle Rose for winning the raffled unique hand painted didgeridoo, painted by local artist Rod Peckham.
On hand was equestrian champion Drew Hay, representing the North Queensland Riding for the Disabled who sponsored the raffle, and Mick Montague, Red Beret manager and where the presentation took place.
The committee and members of the North Queensland Riding for the Disabled Association wish to thank all those who purchased tickets in the raffle all proceeds will be put to good use.
At this time the organization would also like to express their thanks to all those who donate to the two donation money boxes in the shape of horses that are placed at the Red Beret Hotel.
---

You are Invited to join us 
at the 
First  Dressage Event to be held
 at the
 NEW SUNSHINE COAST RDA CENTRE 
on
22nd February 2015
at 2 MONAK ROAD  NORTH ARM.
SPECTATORS WELCOME 
STARTS 9AM 
Please check our website in case of cancellation at www.sunshinecoastrda.com
---
RDAQ News
Coaching Committee
Skype Sessions:
It is very encouraging to see the response for the new training schedule sent out late last year which involves a "kick off" with Skype sessions commencing early February.
The response has been fantastic and at this stage Level 1 Skype session for February 4th is full and there are only 2 places left for the OTC session on 3rd February.
Everyone is new to Skype but it is fantastic that so many people are prepared to "give it a go" in order to advance their training.
Once you are registered with Chris Nott the details of topics and times will be sent out.
Chris's email is if you want to contact her or 0433182398
Ciao
Chris Nott
---
Trish Hollis's Blog
Trish Hollis's Volunteer and Rider of the month.
This month I had the pleasure of chatting with a dedicated and passionate RDA personality, Chris Nott.
In 2002 in what Chris describes as a 'mid-life crisis' she went on a 3 month ride, re-enacting a Historical Cattle Theft. This was the first time Chris rode a horse, being lead for the first few days. Despite being sorer than she could ever remember Chris had been bitten by the horse bug……
2003 saw Chris start volunteering at a local RDA centre where she learnt horse handling and fell in love with the people that came to ride. After a couple of years Chris meet Averil Troon and it was Averil who convinced Chris to embark on the journey to coaching. Chris achieved her Level 1 coaching status in 2007 under the guidance of Averil.
I was struck by Chris's energy when I spoke with her, she works full-time rising at 5am to work her horses or coach, then going off to work for the day only to come home to work the horses or coach. Chris now volunteers at Currumbin Valley RDA, who are the greatest supporters of her new role. Chris has been appointed the coach of the very first Australian Equestrian Team to compete at the world Special Olympics being heard in Los Angeles at the end of July this year. Chris will travel with her 2 riders to this prestigious event. Before the riders can go Chris is assisting with the fundraising that is required to fund the trip to the USA, the cost is estimated to be around $10,000 per rider. Chris has a dream to take 25 riders to the next Special Olympics in 2018, wouldn't that be fantastic! The Special Olympics is for competitors with intellectual disabilities.
This year Chris is also planning to train new coaches for our RDA centres QLD wide. She has organised training via Skype as well as visiting centres and having trainee coaches attend workshop at centres in Brisbane.
I don't think Chris sleeps much!
I asked Chris what drives her, she gave me one word "Success". That success comes in many forms, seeing kids improve, seeing new coaches helping more people with disabilities gaining dignity from there riding and generally spreading the joy that horses can bring. Chris said "All parents need Hope, they live in hope that we will give their child something they didn't have before, that riding will benefit there child"
Not that I know where Chris would have spare time but I asked her what she liked to do in her spare time, " I love attending and competing in Camp drafting events, sometimes I even take some of my riders with me" That is the mark of a special lady.
I'm sure you will all join me in wishing Chris and her riders every success in L.A. and thank her for her dedication to RDA.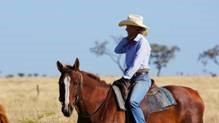 ---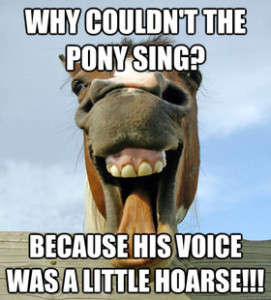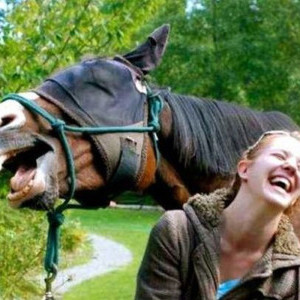 ---
---
---