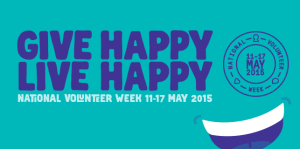 Welcome to the May RDAQ eNewsletter. What a glorious month it will be, sublime Autumn days and some extraordinary work being done by our RDA centres around Queensland.
This month we are celebrating National Volunteer Week which gives RDAQ and Centres the chance to say thank you to all of the amazing volunteers that make us great. Without the support of these selfless people, RDA would not be as successful as it is. More than 6 million Australian volunteers give happiness to others each year. And research says that that those volunteers are happier as a result. So this National Volunteer Week (11-17 May 2015), help us make Australia the happiest place on earth, by giving as much of your time as you can. Give Happy. Live Happy.

We are always looking for volunteers so please contact as at
admin@rdaq.org.au or 07 3888 5277
---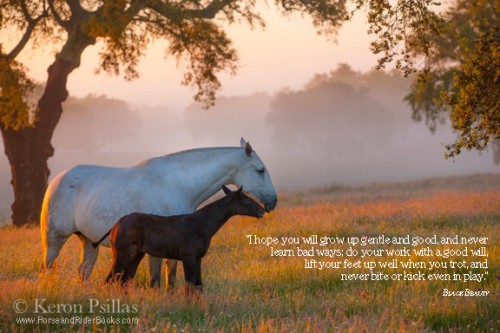 RDAQ would like to wish all the mothers a Happy Mothers day for the 10th of May.
We hope you all got spoilt.
---

GAMBLING COMMUNITY BENEFIT FUND – Now Open
The latest round of the Gambling Community Benefit Fund is now open and closes 31 May 2015.  Priority will be given to applications for purchasing equipment and facility upgrades.  All organisations applying for the first time must register with the CBFU to obtain a business partner number.  This business partner number is required prior to completing an application form.  Organisations that have previoulsy registered for a business partner number do not need to re-register.  The funding guidelines, and application form can be found at www.justice.qld.gov.au.
APPLY NOW – Funding Program
The Real Needs Community Grants program is a community grants program for not-for-profit organisations working with children and youth in need.  The Real Needs Program is run on a monthly basis, with grants allocated in values of $5,000, $10,000 and $20,000.  For further information and to apply visit www.realneeds.realinsurance.com.au.
ATO – Tax Basics for Non-profit Organisations
The Australian Taxation Office has a downloadable guide Tax basics for non-profit organisations which is a guide to tax issues which may affect non-profit organisations such as clubs and associations.  The guide provides assistance to club treasurers and office bearers as it explains which taxes and concessions affect non-profit organisations and directs you to where you can find more detailed information.  You can download the publication at www.ato.gov.au.
FUNDING & AWARDS – Reminders
A brief reminder of funding opportunities for your organisation that are closing in the coming months:
$ Australian Red Cross Project Defib (ongoing) – www.projectdefib.com.au
$ Elite Indigenous Travel and Accommodation Assistance Program (ongoing) –  www.ausport.gov.au
$ Local Sporting Champions Grants Program (ongoing) – www.ausport.gov.au
$ Young Athlete Assistance Program (ongoing) – www.nprsr.qld.gov.au
$ The Courier-Mail Children's Fund (ongoing) – www.couriermail.com.au
$  Real Needs Program (ongoing) –  www.realneeds.realinsurance.com.au
$ RACQ Foundation Program (closes 7 May) – www.racq.com.au
$ Queensland Country Credit Union Community Grant (closes 8 May) – www.qccu.com.au
$ CommBank Cricket Club Sponsorship (closes 9 August 2015) – www.commbank.com.au 
To contact Moreton Bay Regional Council's Sport and Recreation Unit, please call 3283 0389 or email .
---
RDAQ President Report on
Centre Visits
Report RDA Gemfields Centre Visit
Coach Sunrise Emmanuel and I arrived at Sapphire on 13th March 2015.
Tim and Paula Riley and their lovely pooch, Chloe aka 'poodle', (a border collie), met us at the outskirts of town, before travelling with us to the RDA facility at Roy Day Park. Our meeting commenced with a planning and information sharing session, which lasted well into the afternoon. Both Sunrise and I were impressed with their enthusiasm and obvious rapport with the other community members from the various groups who share the Roy Day Park facility.
I spent time with President Tim, discussing the present situation and the committee's future plans for the Gemfields RDA. Sunrise took the opportunity to walk and inspect the facility, the horses, saddlery and equipment that the centre has at its disposal. It is very obvious the members of the committee are committed to the organisation and the provision of services to their clients.
The facility is well laid out with several improvements underway, these include new fencing, a washbay, a tractor shed and the relocation of their storage containers to a more a accessible location. The local council has also indicated they are intending to build a new amenities block on the other side of the RDA area, which will be in closer proximity for the RDA clients.
While we were with them, the committee took the opportunity to hold a client day, with Paula working under the guidance of Sunrise. They were very fortunate to be offered a lovely, sweet mare for possible use at the centre and after spending time assessing with Sunrise, the mare's suitability and temperament they were quick t take up the owner's offer of a six week trial. She will bring the total available horses to three for use by the centre.
We were able to also assist Tim and Paula with a quite number of resources and strategies to enhance their community profile and to assist with volunteer recruitment. Paula now has a group of 17 members ready to help with services once they are up and going.
It was a very positive and productive visit, which left us with a feeling of satisfaction and confidence in the future of Gemfields RDA.

Megan Wray
President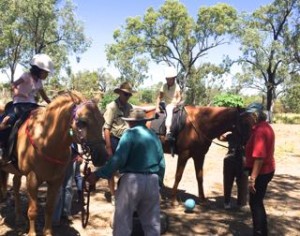 Gemfields with their lovely riders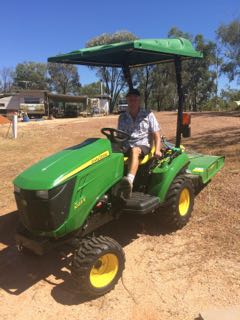 Tim Riley with the new tractor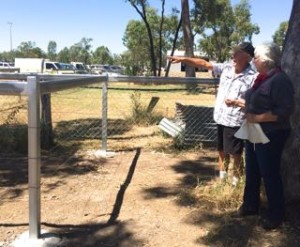 Tim showing Megan the new fences.
---
RDAQ Seeking Board Members
We are seeking expressions of interest from people who are able to bring their time, skills and expertise to become part of a team dedicated to taking RDAQ into the future. If you know of or are such a person please contact myself, Kerry or another Board member to discuss further.
Location: Burpengary, Brisbane
Time required: 1-3 hours per month
Duration of project: Ongoing
Contact name: Megan Wray
Contact telephone: 07 3888 5277 or 0402 470 616
Contact Email:
---
Centre News
Lockyer Valley RDA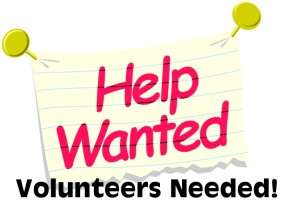 Volunteers needed!
We provide training and ongoing support for volunteers. Your help can make a big difference to the clients we have at our centre. We accept volunteer applications from people aged 14 or older. Be apart of an amazing charity!
Please contact Sheila Marshal at or 5466 4317
Warwick RDA
Warwick RDA Started 2015 with the first training day.  We had a great number of volunteers from Scots PGC and Assumption college. 
We are very excited and looking forward to our first ride on the 13th of May.

Phone: 07 4661 3020 or 0438 234 815
Email:
Maryborough RDA
It is with great sadness that we advise the passing of our wonderful Laddie at RDA Maryborough.
Laddie came to us as a sprightly 16 year old in 2009 and left us just as sprightly aged 22.  In the time he was with us he proved himself to be a wonderful RDA horse who sensed when the rider on his back needed him to be very careful or if they were able to ride more independently and therefore he could ask more of them in the form of correct aids etc.  He also loved abled bodied riders and every now and then would get very keen when a barrel came into view and he thought he might like to relive his barrel racing youth.
About 3 months ago he developed a small lump on his leg which, despite the very best veterinary treatment and care from our volunteers, quickly grew very large and did not respond to any medication or treatment.  Thank you to David Goddard, our vet, for coming out every day to tend Laddie and to Pearl Thorpe for her dedication in caring for him.  The hard decision was made that Laddie's wound was not going to heal, in fact it would only get worse and the kindest thing we could do for him was to allow him to go before he suffered any more.
He was greatly loved by both our riders and volunteers and will be sadly missed by all who knew him.
RIP Laddie, you have earned it.
Everyone at  RDA Maryborough
Phone: 07 4122 4312 or 0403 693 817
Email: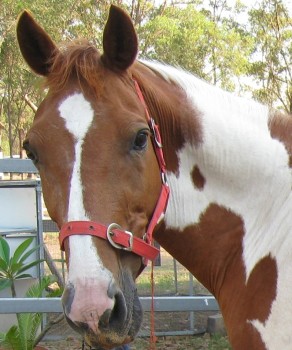 Beautiful Laddie
Mackay RDA
Mackay Riding for Disabled currently have 7 horses at the centre. We have a good strong volunteer database – unfortunately at times we still struggle for volunteers – I guess that's a problem throughout each centre. The volunteers that we do get each time are extremely dedicated and committed. We also have quite a few that just want to work in the maintenance areas – this is great!! We have a rider total of 41.
I'd just like to thank our coaches in this newsletter – without them we couldn't continue our valuable service to the community. Due to the fact that we don't have a Coach at our centre that can do weekend lessons, we have Marg Wilson very kindly travel and volunteer as a Coach with these lessons. We could not do the lessons for the riders without the help from Marg – so it is greatly appreciated. We have just had our OTC coach signed off and passed – congratulations to Jenny Fehring. Jenny is a lovely lady, she is always having new ideas and visions for the lessons. Jody is our Tuesday coach, very busy lady running her own riding school – so we appreciate the time she puts in for our riders. The weather in Mackay has been very kind to us lately – beautiful – no rain and the heat is gone – making for beautiful lesson days.
One of our horses is quite old and has struggled a bit lately with laminitis. We have just had special shoes made for him by our farrier, who donates all of his services to us. He spent the day watching the kids on these horses. he was so touched by one of the little riders and the connection that she had with little Bucko – he said he knew he just had to save his feet!! So thanks to him, the kids will all get to appreciate and love Bucko that bit longer.
This is what RDA is all about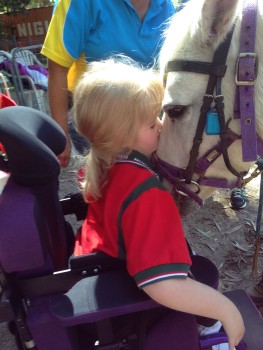 Kabila with Bucko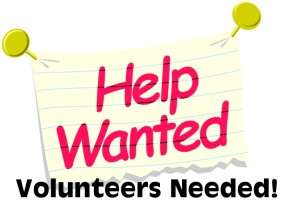 If you would like to volunteer please contact (07) 4944 0066 or mackayrda@bigpond.com
Phone: 07 4944 0066 or 0428 553 047
Email:  or
Currumbin Valley RDA
The Valley was thrilled to have the privilege of hosting a 3 day "Get Em Going" workshop by the internationally recognised and acclaimed presenter Mary Longden. The weather was unkind but did not dampen the positive atmosphere and "awesome" learning experience. Coaches and trainees from southern regional RDA centres were invited and those that attended expressed best workshop ever sentiments.
To a degree the program had to be modified but generally Mary, the riders and our volunteers just ignored the rain and got on with it, ensuring that all the attendees were flooded with information and ideas. The comments were overwhelmingly positive and enthusiastic and everyone can't wait for the next one !!
Mary's fundamental message was to "KNOW the basics and work on them", e.g. – correct position, rein control, and suitable aids. Then, no matter their degree/type of disability, challenge each rider to a higher individual level of skills, and aim for greater independence. "Expect More not Less" And this requires the need for planning and outcomes aims for each rider. Teach the riders to ride and then let them do so.
Mary also stressed the IMPORTANT role of the volunteers as the people who work one on one with each rider to teach them the skill being directed by the coach. RDA is most successful when it is a team effort. All riders learn at their individual rate and learning cannot be hurried. This means that if the coach does the one to one teaching the other riders are left out and sessions become dull.
To extend the riders the coaches need to be personally skilled up, confident, as well as brave. I am sure many coaches, volunteers and riders left feeling more so. Volunteer briefing by the coach at the beginning of every session is vital as it allows the riding to be productive. The general plan for the session as well as individual aims can be discussed in a few minutes. De-briefing is also of great value for the ongoing planning of the programme.
Mary is not a fan of time filling games, except as a fun 5 minutes or a reward fun session. She believes RDA is about riding a horse at each individuals best skill level and that in itself is a unique and joyful as well as a therapeutic experience. Activities should be relevant to the rider and mirror the skill being learned and practiced at the time.
Mary hopes that Centres will look into Early Intervention programmes. They are very rewarding for the coaches and volunteers and parents really appreciate their children working on developing their abilities.
The Valley mob very much impressed Mary for our dedication, friendly positive atmosphere and keen attitude to learn. She loved our horses and riders. Well done team.
Written by Bev Humphries
Phone: 07 5536 1224 (Bev) or 07 5527 9586 (Lyn)
Email:  or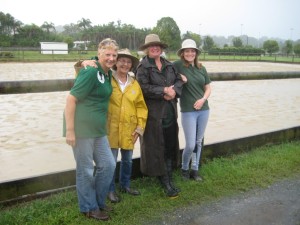 ---
Trish Hollis's Blog
To start out my Blog I want to say thank you to Bev and her team at Currumbin Valley for inviting myself, Linda and Sharna from Crowson Park, to the Vicky Melville Clinic held last month. For those who don't know Vicky hails from across the ditch, New Zealand. The workshop I attended was very informative. Vicky has more qualification then I can list and most importantly she has around 40 years' experience with RDA and is a physio. Should you ever get the opportunity to attend a workshop with Vicky jump at it.
Trish Hollis's volunteer of the month
Allaine Stent
Trainee Coach Allaine Stent is my Volunteer profile and what a gem she is…. Allaine has been part of the team at Currumbin Valley for 8 years which is an amazing contribution to the community. I asked Allaine how she found RDA and she told me, that at 60 she finished work and was unable to find work so looked to volunteering. With a love for horses and people it was a no brainer. Allaine also coaches Masters Swimming and competes herself. Allaine is one very active 67 years young, Mother of 3 and Grandma to 5. Wow people like Allaine are the hero's of our community.
Allaine has nearly completed her Level 1 coaching and has no plans to give up her work at Currumbin Valley. Allaine believes that volunteering is so rewarding and loves to mentor young people. I saw Allaine ride and while her confidence wasn't high to begin with she did great work demonstrating the benefits of pole work with Vicky Melville.
I asked Bev Humphries about Allaine and she told that Allaine is absolutely dedicated to her work at Currumbin Valley. "Allaine has not found the training easy and has had to work hard at it. She is an inspiration, many would have given up but she has just chipped away and she is nearly finished. We are all very proud of her". Bev also said that Allaine shows great empathy and is a true team player.
Rider of the Month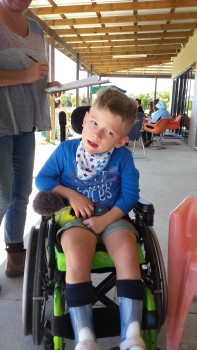 Lloyd Jones
While I was at the beautiful Currumbin Valley RDA I had the privilege of meeting one of their rider's and his mum. I spoke with Bec Jones who is Lloyd's mum. Lloyd is 5 years young and has Cerebral palsy, he also suffers from seizures that are controlled with medication. While Lloyd is non verbal he tells you just how much he loves his riding in the pure joy on his little face. I had the pleasure of watching Lloyd ride as one of the "models" for Vicky Melville. On that day Lloyd had good control of his head and is a moderate to high support rider.
Lloyd and his family moved to the Gold Coast from Perth where Mum, Bec first heard about RDA. After arrive in QLD, Bec made contact with Currumbin Valley about the possible benefits for Lloyd in therapeutic riding. Now 2 years later Lloyd has gone from being very floppy with no head control requiring extensive support of his head and trunk to being able to hold his head up and support his trunk with his arms pushing up from the horse. At first Lloyd would only ride 10 minutes now he rides around 40minutes. I asked Bec what the goal is for Lloyd, she told me that they hope to see continued strengthening with the ultimate goal being to walk. I really believe he will get there. Lloyd has a beautiful spirit and his smile lights any room.
At the moment Bec is part of the support team when Lloyd is riding but hopes to be able to watch from the side lines in the future. Bec also said that riding is great therapy for mums. When I asked Bec about the people at CV RDA she said "The volunteers are amazing and encourage Lloyd all the way"
Trainee Coach Allaine has been with Lloyd since he began and she told me that Lloyd's improvement has been significant, the strength he has gained in his neck and legs is encouraging. We are all working towards getting Lloyd strong enough to walk in a frame. I also asked Allaine what was one thing Lloyd loved to do while riding, she told me "Lloyd loves to race me on my wooden horse, he giggles from his boots" How cute would that be to see.
Every time I meet riders and their families it confirms that what we do as part of RDA is making a real difference. Keep up the good work Lloyd and the Team at Currumbin Valley RDA.
So that was my visit to Currumbin Valley. I hope you all have a great month and keep up the great work.
Trish Hollis
---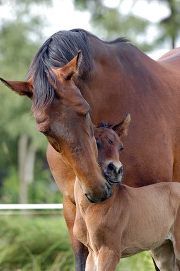 ---