February eNewsletter 2015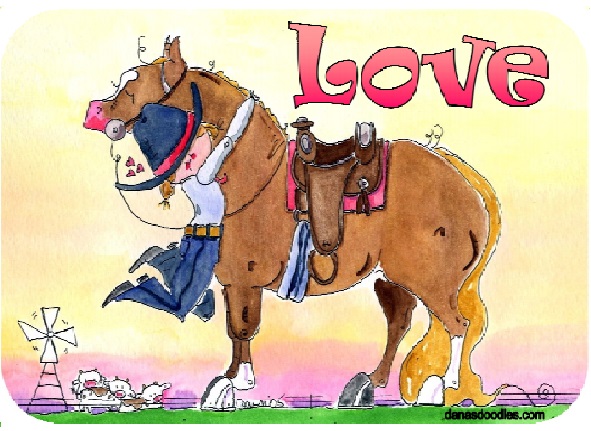 The school holidays have gone,
the New Year has begun at RDAQ
we have opened doors to see what can be done.
To some of us who have been before it's good to see old pals,
to those of you who are new this year,
you are welcome boys and gals!
Its February already can you believe it and love is in the air for Valentine's Day!
Did you know??
A Romantic History of Love's Patron Saint Love is in the air on Feb. 14, but why? It may have something to do with the 1 billion Valentine's Day cards that are sent every year to express love and good wishes. Although today "Valentine" is synonymous with love, several early Christian martyrs shared the name. The Valentine most closely associated with today's holiday was a priest who lived in Rome in the 3rd century. The Emperor Claudius II had outlawed marriage, under the theory that married men didn't make fierce soldiers. When Valentine continued to perform weddings, Claudius had him put to death. In another version of the story, Valentine attempted to convert Claudius to Christianity while in prison and was executed. In other tales, Valentine healed his jailer's blind daughter, and the two fell in love. According to legend, Valentine's final letter to her was signed, "From your Valentine." Valentine's Day began to take off in the late 18th century, when a British publisher brought out a book called The Young Man's Valentine Writer, full of sentimental poems for lovers unable to compose their own romantic messages. Better printing technology and lower postal rates combined to make holiday cards more convenient. The first line of Valentine's Day cards, on embossed paper, was launched in 1847 by Esther Howland, whose father owned a book and stationery store in Worcester, Mass. Valentine's Day is celebrated in many countries around the world, including the United States, Canada, Mexico, the United Kingdom, France, and Australia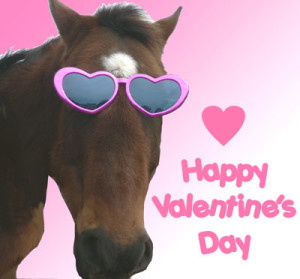 ---

Applications for the next round of Get Started, a $150 voucher program to help children and young people who can least afford to join a sport or recreation club, are now open.
Voucher applications open 10am on 28 January 2015.
Voucher applications close on 10 April 2015 or earlier if all available vouchers are allocated.
Vouchers must be presented to a Get Started club by 11 May 2015.Who can apply? Individuals eligible to apply for a voucher are children and young people from the age of five and under the age of 18 who are residents of Queensland and:  hold or whose parent, carer or guardian holds a Centrelink Health Care Card or Pensioner Concession Card  other children or young people identified by two referral agents.
What funding is available? A maximum of $150 per voucher is available to help pay the cost of sport or recreation membership and/or participation fees.
Applying for a voucher – Round 5 now open
The distribution of Get Started vouchers is managed using an online system called QGrants. Parents, guardians and carers must register for a QGrants account before applying for a voucher. You can create a QGrants account at any time.
Eligible children and young people that received a voucher in 2014 are eligible to apply for a voucher in 2015.
http://www.nprsr.qld.gov.au/funding/getinthegame/voucher-application.html
---

Moreton Bay Region News Workshops, Training & Forums
Looking In Looking Out
Looking In Looking Out is a free 6 week group for mother's, grandmother's and female carer's who have children under the age of 18 years in their care who are interested in exploring ideas around self esteem and ways to make changes towards having a healthier self esteem. The program will be held at Encircle, Lawnton from Wednesday, 29 April – Wednesday 3 June 2015 on Wednesday mornings 10.00am – 12.30pm. For further information or to register your interest contact Relationships Australia Family Support Service on (07) 342 3692.
Plan Ahead Workshops
For Queenslanders with an intellectual and/or learning disability, you are invited to come to a plan ahead workshop and start your journey towards the National Disability Insurance Scheme (NDIS). Fun and free workshops are available with lunch included that are 2 half days over 2 weeks. Learn about the NDIS and what it means for you. Upcoming Workshops include:
Caboolture Workshop on Wednesday, 18 and Wednesday, 25 February from 10:30am – 2.00pm each day at Caboolture Learning & Lifestyle, Caboolture. For more information please see the

Caboolture Ready To Go Workshop Flye

r
Redcliffe Workshop on Thursday, 5 and Thursday, 12 March from 9.30am – 12.30pm each day at Redcliffe Hive, Redcliffe. For more information please see the Redcliffe Ready To Go Workshop Flyer
The Gambling Community Benefit Fund
The Gambling Community Benefit Fund Round 84 is now open and will close at midnight on Saturday, 28 February 2015.The new application form and Round 84 funding guidelines are now available.
Queensland Community Foundation Grants
Grants of up to $30,000 for projects in one or more of the following initiatives will be considered:
Analysis and evaluation of future service delivery options in an environment of greater contestability and desirability for 'total solutions', while retaining community cohesion
Analysis, consideration and development of governance options to provide effective, high quality, services based on client outcomes
Development of financial and costing systems to identify cost drivers and develop service pricing
Improvement of communication and marketing to support client choice
Development of fund-raising options (e.g. to cover overheads and initiatives not funded by government).
The closing date for Expressions of Interest is Wednesday, 25 February 2015. For more information please visit the QCF website, call (07) 3360 3854, or  contact .
---
President Report February 2015
The RDAQ is now back in full swing, with several centres reopening and 2015 membership forms being distributed to centres. We have also forward insurance certificates of currency to all centres.
A reminder also that Centre Body membership was due and payable by 31st January. We simply cannot ensure insurance cover for centres and members until this is paid.
A further reminder that this year the Special Olympics will be held at the Sunshine Coast. Please contact Chris Nott for further information
As promised in our last newsletter, our Coaching Committee has commenced coach theory training sessions on Skype this week and this will be followed with OTC and Level 1 practical training at Samford Centre on 21/22 February
It is very pleasing to see coaches from Currumbin, Blackwater, Gemfields, Bundaberg, Rockhampton, Crowson Park, Mackay and Atherton being involved in the Skype training
Our second round of practical training will have Chris Nott will be attending Rockhampton Centre to conduct practical training on 21/22 March.
We encourage trainee coaches from the central or other regions to contact Chris regarding attending this training, RDAQ has committed to assist candidates to attend these sessions.
We are excited to announce that Kerry has already been working on expending our carriage-driving grant, with discussions held with National Carriage Driving Coach
Di Lawrence. Kerry will release further information as it becomes available.
I encourage centres to take advantage of Kerry's grant writing expertise and to read his monthly GWP newsletter, especially if you are in need of facilities or equipment.
We are pleased to inform you all that we have procured the services of two professional donation collectors for the Association, These gentlemen do charge us a percentage of all monies they collect but have already raised close to $2,000 for RDAQ since commencing their activities in the middle of January. This initiative is one of several the Board is employing to ensure the ongoing viability of the Association and the provision of centre benefits such as assistance with rider registrations and coach education.
Rhiannon and I are finalising details for our visits to centres and will be in touch very shortly to arrange finer details. We are looking forward to interesting and informative visits with centres.
I am currently speaking with PCAQ regarding their annual Personality Quest and looking at ways we can assist with promotion, support and information for the contestants who raise funds on behalf of our centres. Part of this will be in regard to the early printing and distribution of raffle tickets that will be used to assist our centres with raising funds for their equipment and programs. Previously the raffle tickets have not become available to well into the year giving us less time to maximise our sales, which in turn affects returns to centres.
I have also been speaking with some of the therapists who completed our 2014 Hippotherapy courses; there are a group who are interested in possibly working with centres to offer Hippotherapy services to clients. We will release details of this as they come to hand
As stated in the last newsletter there is still a shortfall of enthusiastic and committed members on our Board. We are looking for people who are willing to give some time, skills and expertise to the Association. If you know of or are such a person please contact myself, Kerry or another Board member to discuss further.
Best wishes to All

Megan Wray
President
---
RDAQ Seeking Board Members
We are seeking expressions of interest from people who are able to bring their time, skills and expertise to become part of a team dedicated to taking RDAQ into the future. If you know of or are such a person please contact myself, Kerry or another Board member to discuss further.
Location: Burpengary, Brisbane
Time required: 1-3 hours per month
Duration of project: Ongoing
Contact name: Megan Wray
Contact telephone: 07 3888 5277 or 0402 470 616
Contact Email:
---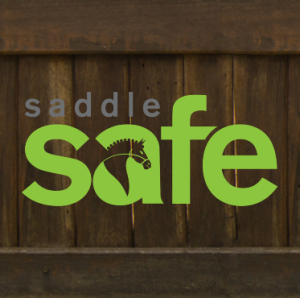 Saddle Safe Donation
We would like to thank Tanya Soutter from Saddle Safe for donating an amazing Saddle Safe to RDAQ.
Please visit the website for more details on how to get yourself one of these awesome Saddle Safes. By mentioning RDAQ you will be given a discount!!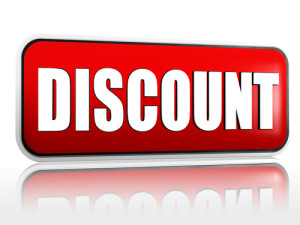 The saddlesafe currently is available in one size ( see dimensions) suitable for English, stock, and similar saddles. The larger model for Western saddles should be available form mid 2015.
Integrated graphics are available for clubs/groups.
Standard colours are:  Lime green                  Charcoal (dark grey) Dark blue                     Autumn brown Red                              Wheat (beige) Yellow                         Heritage red Frog green                   Light blue White                           Black Bright orange
Contact Tanya on 0478723353 or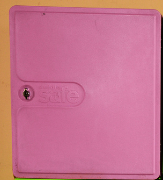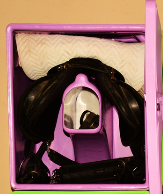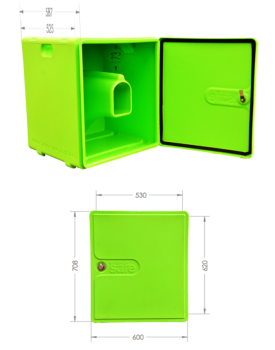 ---

YOUNG OFFENDERS GIVE BACK.
The Toowoomba Youth Justice Service, a division of The Department of Justice and Attorney-General have presented a Carriage to RDAQ.
The Carriage was built by the Young Offenders given the chance to participate in a Vocational Guidance Court under the supervision of Wayne Clark. Wayne is the District Vocational Guidance Officer and has to be given credit for the success of the project.
Wayne approached RDAQ some 18 or more months ago with an idea to build the Carriage hoping that the young people who worked on it would be proud of what they achieved and realise that they had skills that would enable them succeed in society and that they could also give back to the community. RDAQ supplied plans and the rest is history.
With permission from the Boss, Maureen Brosnan, Manager for the Department for South West Queensland, Wayne got things going. Due to the nature of the program, all work was completed by boys aged 14 – 17 and it took several hundred Boy Hours to complete. Wayne was working with unskilled boys, not men, so he had to teach them the various skills and building processes before the work was actually performed. The end result was the magnificent Carriage pictured.
The Carriage was presented to RDAQ at a ceremony in Toowoomba on Thursday 12th February by Mr Sean Harvey, Assistant Director for the Youth Justice Department Queensland, Maureen Brosnan and Wayne Clarke. Brian Shannon and Kerry Mclean accepted the Carriage on behalf of RDAQ.
The Carriage couldn't have come at a better time, as RDAQ is in the process of expanding its current program and this gift will enable another centre to start a program sooner than later.
---
RDA Centre News
Cartmill Centre RDA
The Cartmill Centre is running the first Coaches Workshop for 2015 on the 21st and 22nd of February.
The workshop will consist of:
Level OTC and Level 1 – medical conditions module
Practical – Assess the Rider
Selection and training of the RDA horse
Group practical activities
Principals of Planning –

Lesson Plans
Goal Setting
Own rider – goal setting
For any further enquiries please contact Chris Nott on 0433182398 or
Gemfields RDA
Gemfields RDA along with other RDA centres have had their first Skype lesson towards Level 1 Coach and are pleased to advise that it went very well for a first time. There was a bit of laughter and banter back and forth and I am sure we all got something out of it. Next step are the upcoming Workshops and follow up Skype lessons.
We are gearing up for our AGM at the end of this month and this will guide us as to where we are going. To a large degree we have our finances sort of back on track however like most Clubs getting people to put their hands up to take on a position is not easy – time will tell. We are always looking for volunteers and would welcome anyone wishing to come forward.
Paula Riley
Secretary
Gemfields RDA Inc.
Email:
Mobile: 0408798440
Currumbin Valley RDA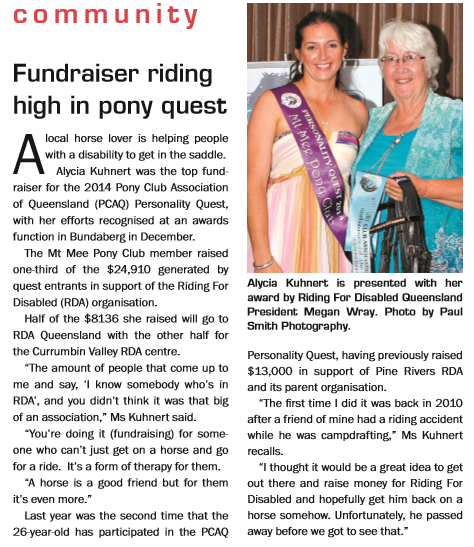 ---
Trish Hollis's Blog
Trish Hollis's Volunteer and Rider of the month.
This month I thought I'd take the opportunity, as I have not yet been around to visit centres, to introduce myself being that my name is attached to this section of the newsletter.
In 2010 when my children reached grades 3 & 4 at school and the need for classroom helpers was not so great, I was looking for something meaningful to give my time to. I had become friends with another Mum who sometimes wore a shirt with Crowson Park RDA. After she told me that it was about Horses and people with disabilities, I thought I'd found something I could do. The following week there was an article in the local paper calling for volunteers. I attended an information session the next week and was impressed with the scope of the programs. With my love for people and animals it was prefect.
Fast forward 4 years and today I am very proud to be part of Crowson Park RDA and the dedicated team of volunteers. We may be a smaller centre with only 23 riders and 4 horses but we are making a real difference in the lives of these families.
I hold the position of Treasurer at Crowson Park RDA and have done for 3 and a half years. I was nominated for Vice President of the state body in October of 2014 and was happy to take on the position. This is all in addition to my budding Journo career for the newsletter….hahaha. But seriously I'm excited to see what the future holds and I hope to make a real contribution.
As I write I'm so looking forward to having the riders back on the 10th March, I have missed all the characters, Volunteers and Riders, so much. The smiles and giggles are the only reward I need to keep volunteering year after year despite the odd hurdle. Volunteering is defiantly a great part of my life and sets a good example to my children that giving of yourself is worth a million bucks.
As Vice-President I would like to encourage all centres to share their success with us all. We all do such great work, let's inspire each other. I plan to visit the centres that are accessible to me and phone others to hear about their riders and volunteers. I'm always up for a chat, particularly if it is accompanied by morning tea (at Crowson Park they call me "the feeder" as I love to feed myself and others, at the least I share…)
If I can ever be of any help don't hesitate to call or e-mail.
Thank you to each and every one of you that give to RDA in anyway no matter how big or small, it all goes a long way. I say to people often "I don't have cash to give but I do have time and a lot a heart"
Until next time stay safe.
Trish Hollis – Vice President RDAQ
0413 492305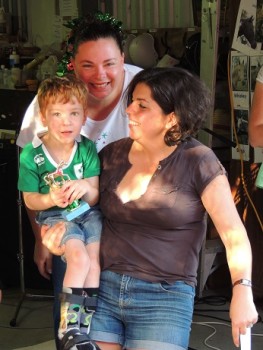 (This Sean and his Mum Ginnie at our Xmas – awards nights at Crowson Park RDA)
---
RDAQ COMPETITION TIME!!!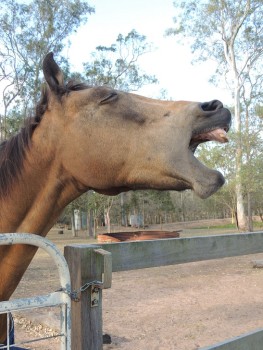 This is Lady from Crowson Park RDA pulling a funny face which is in need of a great caption.
Best Caption for the photo of Lady – email and the winner will be announced next week on our website and notified by emailed.
What you can win –
RDAQ Competition winners pack: Sticker, Pen, Buck book, RDAQ Cap, key ring and 2 x arm bands.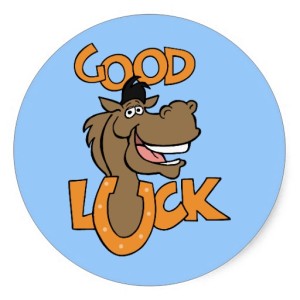 ---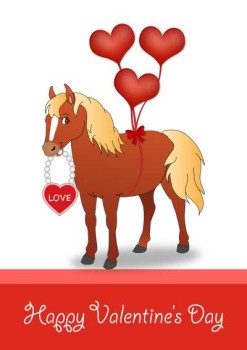 ---