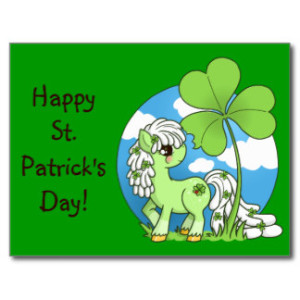 Top O' the Morning to all! March is already here! Time flies when you are working hard.
St. Patrick's Day celebrates the Roman Catholic feast day of the patron saint of Ireland. St. Patrick died on March 17, 461. But did you know that he wasn't even Irish?
Now let's see what is going on in this month's edition.
Thank you to all the participated in the competition last month. It was so successful that we will be running another one.
RDAQ COMPETITION TIME!!!
This is Lady from Crowson Park RDA pulling a funny face which is in need of a great caption.
Best Caption for the photo of Lady – email and the winner will be announced next month in the eNewletter and notified by emailed.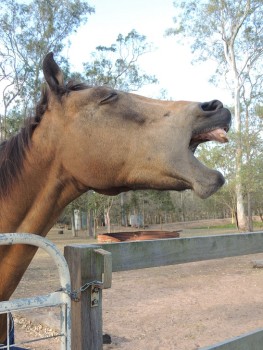 ---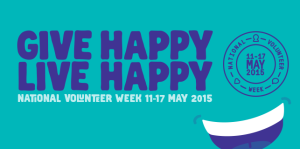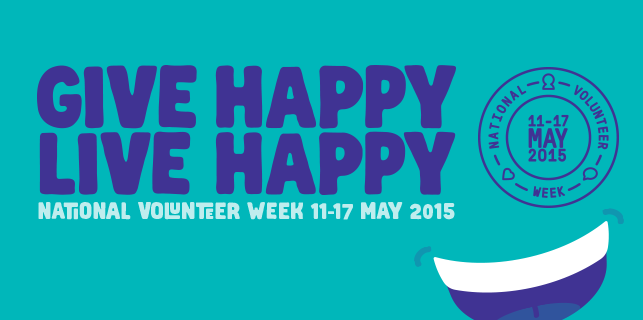 Dear Centres,
This year National Volunteers week will be celebrated from the 11th to 17th May.
Established in 1989, National Volunteer Week is the largest celebration of volunteers and volunteerism in Australia, and provides an opportunity to highlight the role of volunteers in our community and to say thank you to the more than 6 million Australians who volunteer.
RDAQ Centres rely on our amazing volunteers who give time, energy and expertise to ensure our riders are able to experience the joy of horses and horse based activities.
We at RDAQ are extremely proud of everyone who contributes to our centres and urge all centres to consider nominating their people for these important awards.
Details will be available from the National Volunteering website:
Last year volunteers Cherie Weatherall and Emily Lydeamore Walker, both from Rockhampton RDA were recognised for their contributions to their centres at the RDAA National Volunteer Awards, which are celebrated in November each year.
---


ATO – Package for non-profit administrators
The Australian Taxation Office has an online induction package which can assist new club administrators with information and services the ATO provides.  This package is also useful for existing non-profit administrators, as it contains an overview of non-profit tax issues and links to other sections of the ATO website.  Topics covered include tax concessions, income tax exemption, regulation considerations when fundraising and information on requirements for record keeping, administration and paying tax. The induction package can be found at www.ato.gov.au.
FUNDING & AWARDS – Reminders
A brief reminder of funding opportunities for your organisation that are closing in the coming months:
$ Australian Red Cross Project Defib (ongoing) www.projectdefib.com.au
$ Elite Indigenous Travel and Accommodation Assistance Program (ongoing) – www.ausport.gov.au
$ Local Sporting Champions (ongoing) – www.nprsr.qld.gov.au
$ The Courier-Mail Children's Fund (ongoing) – www.couriermail.com.au
$ Jetstar Flying Start Program (closes 31 March) – www.jetstar.com.au
$ MBRC Community Grants Program (closes 31 March) –  www.moretonbay.qld.gov.au
$ NRMA Insurance Community Grant (closes 31 March) – www.communitygrantsprogram.com.au
$  RACQ Foundation Program (closes 7 May) – www.racq.com.au
$ CommBank Cricket Club Sponsorship (closes 9 August 2015) – www.commbank.com.au
To contact Moreton Bay Regional Council's Sport and Recreation Unit, please call 3283 0389 or email .
To manage your subscription to these e-Newsletters, please visit the website.
Please advise Council of any updates to your club commitee and/or contact details
---
President Report March 2015
RDAQ Matters
I have decided to give this monthly report a name and felt this was appropriate as obviously what we do for RDAQ matters.
The Board has been very active this month with everyone working together to achieve some really great outcomes.
Kerry and Brian have been working on enlisting sponsors and support for our fundraising efforts. Sue has been assisting with board administrative duties, while Trish has been actively working on newsletter material and sourcing quotes for our on line shop. Jenna is keeping our office running smoothly and doing a great job.
We have all been looking at ways of promoting our centres and ways of ensuring the ongoing funding for the Association for the future.
Kerry has our concert well in hand and we will be meeting shortly with a potential promoter who will assist with planning, development and promotion of the event.
I am currently, with Sunrise Emmanuel, level 1 coach from Bundaberg, visiting the regional centres in central and northern Queensland
Our days have been spent familiarising ourselves with the centres, their volunteers, their facilities and their programs. We have held planning meetings, assisted with administration, volunteer recruitment and management, resource provision, media materials and also promotional development.
Sunrise has held training for volunteers as well as coach development and rider sessions. We have also spent time with committee members identifying issues and gaps in facilities and resources currently available to these centres.
I will be following up on this with further visits to service our southern and metropolitan centres.
Our best to you all

Megan Wray
RDAQ President
---
Centre Visit Reports
Visit to RDA Rockhampton

.

Sunrise Emmanuel, Level 1 Coach from Bundaberg, and I arrived at Rockhampton on Tuesday evening before meeting with centre committee representatives, President Greg Rea, Secretary Enid Bunt and Cherie Weatherall Publicity Officer and Coach at 8:00 am on Wednesday morning.

Rockhampton centre, which is situated adjacent to the Rockhampton historical complex is set on 14 acres of picturesque, tree studded, council administered land.

Our conversations began with the recent damage sustained from the cyclone and the urgent repairs required as well as future plans for facility development and the committee's current and future aspirations for the centre.

These include urgent repairs to the fencing and the damage to the shade structure over the riding area, a second ramp to expedite mounting for the 20 riders that participate in each session. Development of a second riding area and safety fencing as well as other projects which are needed for the future growth of the centre.

Discussions were also based around volunteer management including the recruitment and retention of volunteers for the centre. Fund-raising and promotion of the centre and its activities were also deliberated as well as succession planning, relationships within the centre and with RDAQ and in particular the building of positive and long term connections between coaches, management committee and volunteers.

The committee identified carriage driving and Hippotherapy as activities that they may be interested in including in their future programs.

We were able to assist with the provision of resources, volunteer management policies and procedures, promotional material, fundraising and other information, which will be of benefit the centre.

It was great to spend time with the Rockhampton committee, we left feeling we have a better understanding of their position as well as a positive and productive visit with new found friends.

Megan

RDAQ President
---
Stay In The Loop
Please check our events calendar at http://www.rdaq.org.au/event-calendar/ for upcoming events
RDAQ Shop
RDAQ now have T-shirts, vests, jackets available for purchase on line at http://www.rdaq.org.au/blog/shop/product-category/all-products/ check out our new range of clothing. More to come soon.
---
RDAQ Seeking Board Members
We are seeking expressions of interest from people who are able to bring their time, skills and expertise to become part of a team dedicated to taking RDAQ into the future. If you know of or are such a person please contact myself, Megan or another Board member to discuss further.
Location: Burpengary, Brisbane
Time required: 1-3 hours per month
Duration of project: Ongoing
Contact name: Megan Wray
Contact telephone: 07 3888 5277 or 0402 470 616
Contact Email:
---
Donations

Sun Joinery has kindly donated $1,279.43 which will be contributing to the Currumbin Valley RDA for the upgrade of our Gold Coast based Coaches.
Many thanks to Mr Saeid Eshraghi for his generosity.
For more information on Sun Joinery please visit – http://sunjoinery.com.au/
Riding for the Disabled Fundraiser
Georgia Rigby who is an entrant in the P.C.A.Q Junior Personality quest to help raise funds for the R.D.A.
Georgia is 12 years old and a proud member of Park Ridge Pony Club, and together with her horse Rosie, are a very positive team. Giving their best in everything they do, from helping other horse and rider combinations achieve their goals to representing Queensland at the state titles. Georgia has achieved these goals from determination, hard work, dedication, and a real love of horses. Riding horses for Georgia is more than a Hobby; it is her life, which all horse riders can understand. Which is why Georgia is very passionate with her support of the Riding for the Disabled Association, as they give meaning and mobility to physically challenged people of all ages, by being able to ride and enjoy being with horses. The RDA are mostly charity funded and run, every year the Pony Club Association of Queensland host a personality quest to aid in raising much needed funds to keep the RDA centres open to those who need them most. Georgia has set a goal with choosing to be a Junior Personality Quest entrant to raise as much money as possible for the Riding for the Disabled Association. Help Georgia; help RDA with your support to keep their centres operating so these riders can feel the same joy and happiness of being with a horse, as the able bodied riders.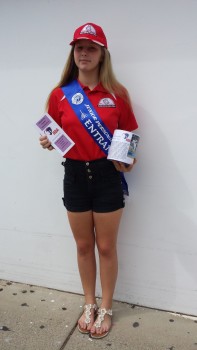 We wish Gege luck in all of her fundraising. What an amazing young lady.
---
RDA Centre News
RDA Bundaberg
Bundaberg Riding for the Disabled reopens for 2015
Bundaberg RDA has their commenced activities for 2015 with a Volunteer training and Induction day as well as a Coach Assessment and Client Service day; both were held on Bundaberg RDA home grounds at the Bundaberg Recreational Precinct.
The days were well attended with around sixteen volunteers attending the induction and six coaches working under the expert guidance of RDAA "Silver Brumby" Joan Lemmon.
Joan is a Level 2 National Coach and Assessor who, along with her husband Bob, travel around Australia as ambassadors and volunteer trainers for the Riding for the Disabled Centres throughout Australia. The couple, who are considered National Treasures for the Association, are now en route to Burpengary where they will spend a month at the Cartmill RDA Centre before continuing to journey south to attend their sons wedding in April.
We wish to thank RDAQ for the invaluable training opportunities afforded to us through Chris Nott's Skype sessions and the practical coaching days at Bundaberg and Cartmill Centres
Bundaberg RDA was fortunate to gain Level I Coach Sunrise Emmanuel as a volunteer at our centre in 2014. With her assistance we will this year be offering increased client days and a broader range of programs for our growing client base.
With Sunrise and our five trainee coaches our centre is looking forward to a bright and productive future.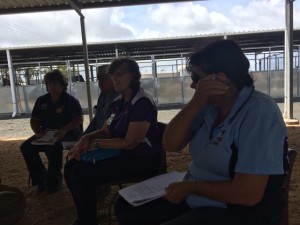 L- R Coaches Susan and John Golchert, Joan Lemmon, Deborah Sheehan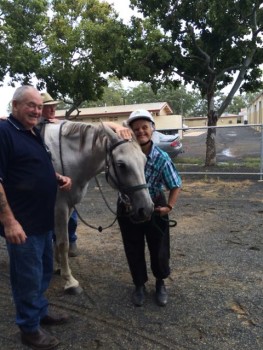 Rob and Eleanor with new volunteer Noel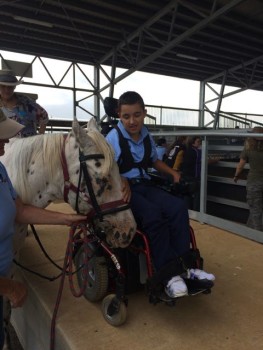 Tim and Freckles
RDA Samford
OTC Coaching Workshop
By Danyele T Foster
Weather did not dampen the enthusiasm of the participants in the first coach's workshop for the year organised by the fantastic RDAQ team. Participants from (Danyele Foster- North Qld, Jennifer Fehring – Mackay, Paula Riley Gemfields) took part in this inaugural event.
Due to the extreme weather experienced in Brisbane area (thank you Cyclone Marcia) the workshop had to be hastily relocated and reorganised due to the severe flooding at Burpengary.
Samford RDA centre provided the ideal facility, horses and exceptional staff necessary to provide a first class learning experience.
The workshop covered practical topics such as saddle fitting, horse handling and assessing the RDA horse in terms of conformation, temperament and paces. Medical conditions were also discussed giving much insight into how riding may be appropriately modified to enhance individual ability and therapeutic benefits. Participants also had the opportunity to road test horses bareback (an interesting experience) and give feedback on what they sensed and how this could benefit or hinder particular riders.
I would really like to thank the dedicated individuals who made this workshop possible, given the disastrous weather and extreme short notice of preparing an alternative workshop for participants.
A special thank you to Chris Nott who has put this fabulous education program together, and to Megan Wray President of RDAQ, and Melody Jacobs, coach educator extraordinaire who provided a marvellous experience for all of us.
Samford will come alive on the evening of the 21st of March 2015 when the Black Tie Cocktail Function "A Night to Remember" hits town!
The Samford Farmers Hall Association and Samford Riding for the Disabled would like to invite you to join us in this community celebration.
With music from Brisbane's premier stage & covers band Hot Sauce & the Electric 80's show, Samford Valley is sure to have the time of its life! Local, Jerome Dalton from Gold Class Catering business, Dalton Hospitality, will serve up extraordinary canapés, including cocktails from the Samford Slushy Co. Premium champagne, wines & beers complete the picture. All proceeds from the evening will go to both, Samford Riding for the Disabled & the Samford Farmers Hall. This is your invitation to celebrate with us and please pass on to your contacts.
 A charity auction will be conducted during the evening and we are have secured some fantastic prizes, but need your attendance to complete the package.
To show your support please book and pay for your tickets as soon as possible via www.samford.yapsody.com
Please feel to call Vanessa from All Aspects Events on 0497 106 476 for further information.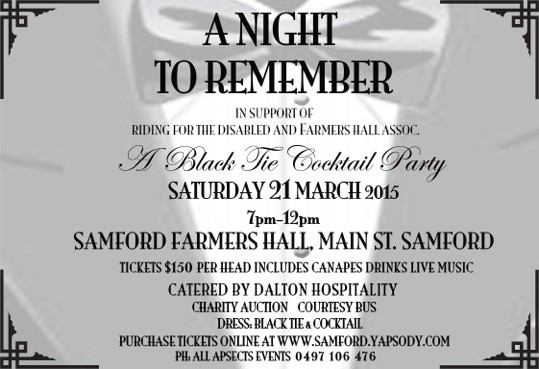 RDA Gemfields
Our tractor/slasher has arrived and we have started slashing the paddocks in readiness as the grass was almost over our heads. The fencing has commenced and hopefully will be completed in the next couple of weeks. This was all due to the Jupiter's Grant that Kerry helped us get.
Cheers,
Paula Riley
Secretary
Gemfields RDA inc.
RDA Currumbin Valley
A big congratulations to Beverley Humphries who was made a Life Member of CVRDA on Saturday acknowledging her 20 years' service.
Thank you Bev for all of your amazing and hard work.
---
Please note that the RDA Queensland
Head Office will be closed from
Friday the 3rd April and reopening on Tuesday the 7th April
Our office hours are 9:00 am to 2:00 pm Monday to Friday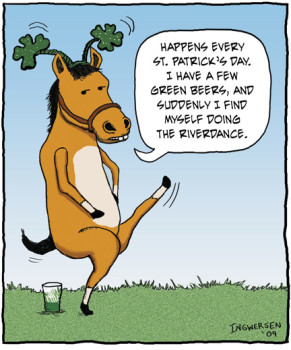 ---